First-Place Purchase Award, National Young Painters Competition
danahargrove
Dana Hargrove is the 2009 William and Dorothy Yeck $10,000 First-Place Purchase Award, National Young Painters Competition, Hiestand Galleries, Miami University, Oxford, Ohio. The Juror Bob Nugent chose Dana's 'Circuit' series as first place.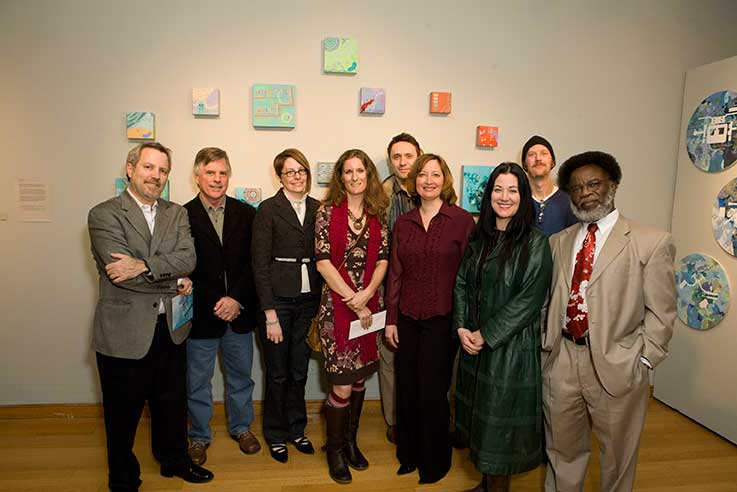 Press Release – Miami University
Winners announced in annual Young Painters Competition
Dana Hargrove of Orlando, Fla., is winner of the 10th annual Young Painters Competition for the $10,000 William (Miami '36) and Dorothy Yeck Award. Winners of the competition, sponsored by Miami University's Hiestand Gallery, School of Fine Arts, were announced Jan. 23. Hargrove was selected for her work, "Circuit Map" (shown below). Born and raised in Dundee, Scotland, Hargrove is an assistant professor of studio art at Rollins College in Winter Park, Fla. She works in drawing and painting, considering ideas that frame our perceptions of the land and sense of place and space. She has exhibited nationally and internationally and is represented by Bridgette Mayer Gallery in Philadelphia.
Hooper Turner of Sunnyside, N.Y., received the second place award of $1,500 for "Miss Congeniality." Turner has exhibited recently in Baltimore, Charlotte, N.C., and Atlanta. His work has also been included twice in the national juried publication, New American Paintings. Third place and $1,000 was given to Michelle Word of Lansing, Mich., for "Nautiloid." Word teaches foundations and drawing at Michigan State University and is involved in the education and arts community in the Greater Lansing area. Works by the winners and other finalists will be exhibited through Feb. 11 at Hiestand Galleries. For more information, call (513) 529-1883.