Group Exhibition 'Bay Two' at new local venue
danahargrove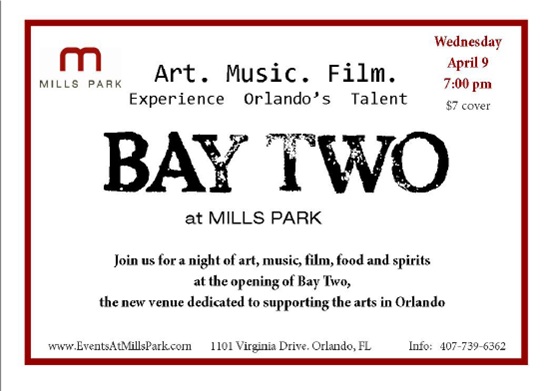 IMMEDIATE RELEASE    CONTACT: Kat Quast
         407-739-6362
BAY TWO
Wednesday, April 9th, 2008
Orlando's Newest Art Venue
Grand Opening Party
$7.00 at the door
Pelloni Development, KaKarmo, LLC and Lot1433 is proud to announce Orlando's
newest gallery! BAY TWO at the MILLS PARK SALES CENTER will be bringing you the
very best in local art, music, film and more.
Our maiden show here at BAY TWO will present a talented gathering of local artists,
accompanied by the music of Ron Irizarry and accentuated by an excellent selection of
the best wines from Italy.
Future events at BAY TWO will continue to showcase local culture as we bring you an
eclectic mix of art that is sure to explore the pertinent environmental and social issues.
About Pelloni Development
James Pelloni founded Pelloni Development Corporation in 1981. Since that time the family
owned and operated company has completed a variety of retail, office and mixed-use
developments. The company has 23 employees. Recent completed developments include Park
Place and The Shoppes at Oakmonte, both located near company headquarters in Heathrow,
Florida. In addition to Mills Park, the company is currently developing The Village at Hunter's
Creek, a 30 acre, 350,000 square foot mixed use development.
About KaKarmo
KaKarmo seeks to present an expansive view of the world that starts in our community. Through
projects that enliven us with open and powerful expression, KaKarmo will provide a springboard
for the ideas that shape our society. KaKarmo is the brain child of Kat Quast who has been
working in the Central Florida entertainment and non profit world since 1998. Ms. Quast was
General Manager of Enzian Theater and The Florida Film Festival for over 10 years.
About Lot 1433 
Lot1433 was founded in 1991 by Andrew White. It mainly specialized in creative services
pertaining to film, television and fine art. As the years passed, lot1433 grew to include residential
and commercial design. What is it about? It's about the idea, the process, and the finished
product. It's about the merging of idea and purpose and material. Most of all, it's about the
passion, the relation, the inspiration, and the vision.
Proceeds go to venue support.